Click here to read this fullscreen
Total number of pages: 9
Use your arrow keys, fingers (if you have a touchscreen), or mouse, to browse through the pages
Click here to return to overview
---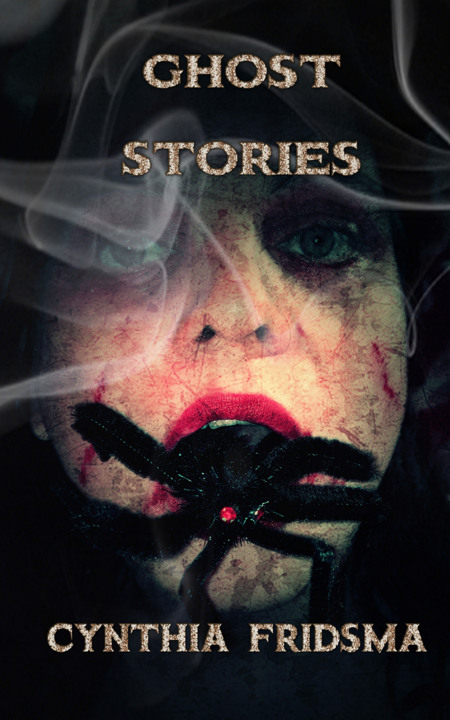 Read an Excerpt
---
page 1 of 9
Ghost Stories
Copyright 2016 Cynthia Fridsma
Published by Cynthia Fridsma
---
page 2 of 9
Edition License Notes
This book is a work of fiction. Names, characters, places, and incidents are either the product of the author's imagination or are used fictionally. Any resemblance to actual persons, living or dead, or to actual events or locales is entirely coincidental.
All illustrations and cover design are done by the author.
This e-book is licensed for your personal enjoyment only. This e-book may not be re-sold or given away to other people. If you would like to share this book with another person, please purchase an additional copy for each recipient. If you're reading this book and did not purchase it, or it was not purchased for your enjoyment only, then please return to your favorite retailer and purchase your own copy. Thank you for respecting the hard work of this author.
---
page 3 of 9
Acknowledgments
Last week, I found a collection of old stories I wrote in the 1990s. When I read them back, I decided to rewrite a few of them. I put them together into this novelette and sent it over to my editor, Virginia, whom I would like to thank for her hard work.
I'd like to thank my husband for his endless support. And I'd like to thank all my readers as well because you are my inspiration to keep writing.
Cynthia Fridsma
---
page 4 of 9
The Old Mansion
About three months ago, my husband, Clark, had this luminous idea to buy a house set in a rural landscape. God, I'd hated the idea of leaving Boston. But yes, like so many wives, I gave in even though it was thirty miles away in the middle of nowhere.
When we arrived, Clark loved it. All I could see was the moss beneath the woodwork and the many cobwebs. It filled my heart with disgust.
"It requires a great deal of work," I said as I glanced at Clark.
He just smiled. "We'll make it work. Come on in, hon. I'm sure you'll love it."
"In a heartbeat," I said sarcastically as the steps creaked beneath our feet. I hurried to enter the house before it'd give in to our weight.
The hall was huge. You could get lost down there. Near the doorway was a winding staircase, and in the corner, I noticed an old, rusty, mechanical fortune teller. The kind you'd see at fairs. It needed a coin to operate. Well, more precisely, a dime. I patted down my pockets and found one—lucky me!
With a rattling sound, the fortune teller slid into motion and spit out a card. I picked it up. Home, sweet home.
Clark glanced over my shoulder and grinned. "Home, sweet home, honey. The fortune teller says so!"
"Yeah, right," I said and thrust the card into the bin next to the fortune teller.
"We can sell it," Clark suggested.
"The house?" I chuckled.
"What? You don't like it here? I'm sure you'll love it after a day or two, after we clean the house. No, I meant the fortune teller. It's old enough to sell it on eBay for a good price. I'm sure lots of people would pay a pretty penny to own a machine like this."
---
page 5 of 9
"Stuffy old people, you mean," I frowned. "Anyway, do we even have Internet?" I pulled out my cell phone. No signal. Dammit.
I gazed at the ceiling—it was like standing in a church, for it was painted the same way, decorations of Bible figures, mostly angels, looking down on us.
Clark tugged at my arm.
"Huh?"
"Come on, hon. I want to show you something," he said excitedly. The only thing I wanted to see was the exit, but he walked me to a wooden door.
We entered the living room. It was huge and old-fashioned with furniture from the late 1800s, I thought. I could smell the dust from miles off. I glanced at the closed curtains in front of the windows.
Without saying a word, I opened them one by one. Luckily, it was a lovely sunny day. Then I tried to open a window, but it was stuck.
"Let me," Clark said, and a minute later, a breeze of fresh air filled the room.
*
The next day, Clark came to me in the kitchen. "Victoria, look at this," he exclaimed.
I turned. He stood in front of me with a big dagger. "I found it in the garden. It's awesome."
"It's dirty," I said, annoyed. Then I exhaled because of his disappointed expression.
"Did your face cloud over? Let me clean it," I smiled faintly. "Soap can do miracles, you know."
After I was done, we saw a ruby red stone carved into the handle. Though I still didn't like the dagger with its curved
---
page 6 of 9
blade that was sharp as hell—I only touched it slightly and I cut myself. "Ouch!" I put my finger in my mouth to stop the bleeding.
Concerned, Clark grabbed a towel from the sink—luckily for me a clean one.
"Thanks," I said gratefully and wrapped the towel around my finger. "You know, I'm done in the kitchen for now."
The kitchen floor had been shipshape. I squinted at Clark because he had left muddy footprints all over the place, smashing a hard day's work to smithereens.
"I'm sorry for the footprints," he said as if he'd just read my mind. In a way, he had. That's what most married couples do.
He held the dagger in his hands. "It's beautiful and ancient and made of silver. It must have cost a fortune."
Then he looked up. "Rest assured, I'll clean up the mess."
"You betcha," I said.
He set the knife down on the table and kissed me.
*
A bright moon lit the night sky as the wind tugged at the trees. It was all quiet around the house. Restlessly, I pushed the blankets off because I couldn't fall asleep. Clark was still slumbering peacefully. Lucky him.
Startled, I looked up because of a scream outside. I pushed on Clark to wake him, but he didn't move. Again, I tried to wake him, but he was in a deep sleep. Annoyed, I turned on the light and stared at him.
A knife pierced his chest. The dagger!
The morbid sight electrified all the hairs on the back of my neck, and my heart raced, feeling like it might explode out of my chest. I wanted to move, only I couldn't. Fear had paralyzed my feet. I glanced at my bloody hands.
---
page 7 of 9
"No!"
"What's the matter, honey?" Clark asked.
I looked at him as if he was a ghost. Then it became clear to me! I was having a nightmare!
My dear husband was still alive and the knife was nowhere to be seen. Then I recalled that Clark had put it in the kitchen, under the sink. Thank God!
"I had a bad dream. You were killed," I took a deep breath as he put his arms around me. I enjoyed the warmth of his body.
---
page 8 of 9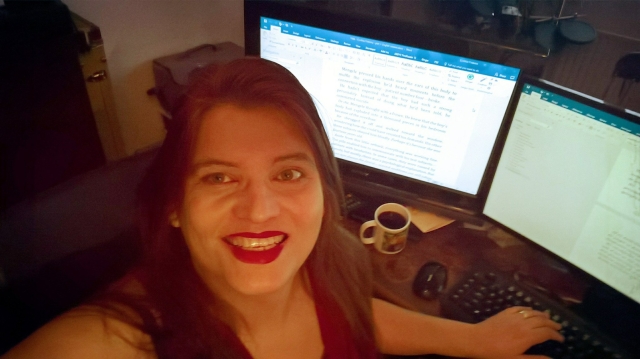 I hope you enjoyed the preview!
Click on this link to buy my book. Buying the book also means that you're supporting me, so I can keep on writing ;-)


https://www.amazon.com/Ghost-Stories-Cynthia-Fridsma-ebook/dp/B01MXD9IYU/ref=tmm_kin_swatch_0?_encoding=UTF8&qid=&sr=
---
page 9 of 9