Cynthia Fridsma - Writer
News
Hello world, welcome to my website. My name is Cynthia Fridsma, and I'm a writer, although I do more in life than just writing. 


I'm kinda like a nerd, good with computers—I used to be a freelance programmer. But after a handicap in 2014—I have a tremor in my right hand, numbness in the fingers, and pain in my wrist. I had to give up my other creative outlets, such as photography, computer programming, and gave up on juggling, so I focused on what I could do rather than what I couldn't do. That's when I decided to write my own stories. My debut novel, Hotel of Death, was published in 2015.
Since then I have written various books in various genres: horror, thriller, and science fiction.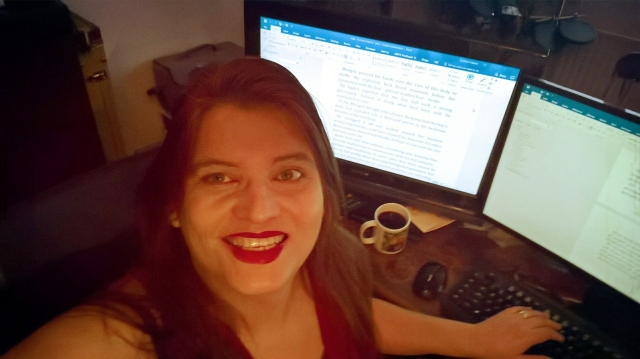 Stop the war in Ukraine 
Listen to my audiobook podcast, Vanished, on Spotify.
Rose Gibbon's husband has been missing for two years. Devastated, she sells her home. The next day, local authorities investigate an abandoned car at the intersection of Westland Avenue and Hemenway Street in Boston. All the blood recedes from her face; she knows it's her husband's car!
Meanwhile, Medical Examiner Natalie Principal arrives at the crime scene to inspect a charred body behind the wheel. The victim falls apart when she touches it. Since the car doesn't show traces of fire, Natalie's afraid the victim was exposed to a deadly dose of radiation. She informs the ATU—Anti Terrorism Unit—about a possible terrorist threat of a dirty bomb. As the investigation continues, digital footprints are erased, and people vanish into thin air . . . a deadly race to save Natalie's friends is about to begin
Pandemic book tour

Writing progress 
Hotel Of Death, horror -- done & published in 2015

The Black Widow, horror -- done & published in 2016

Ghost Stories, horror -- done & published in 2016

Help, horror  -- done & published in 2017         


The Lost Planet, science fiction -- done & published in 2017


Nightbird, horror  -- done & published in 2018

Vanished, thriller -- done & published in 2019

Trauma: I hope he rots in hell -- done & published in 2020

Pandemic: Chaos is Bleeding

-- done & published in 2021

Follow @cynthia_fridsma
Enter Giveaway
Enter Giveaway